Discursive Sexual Violence on Social Media: Personal and Theoretical Reflections
March 24 @ 1:00 pm

-

3:00 pm

EDT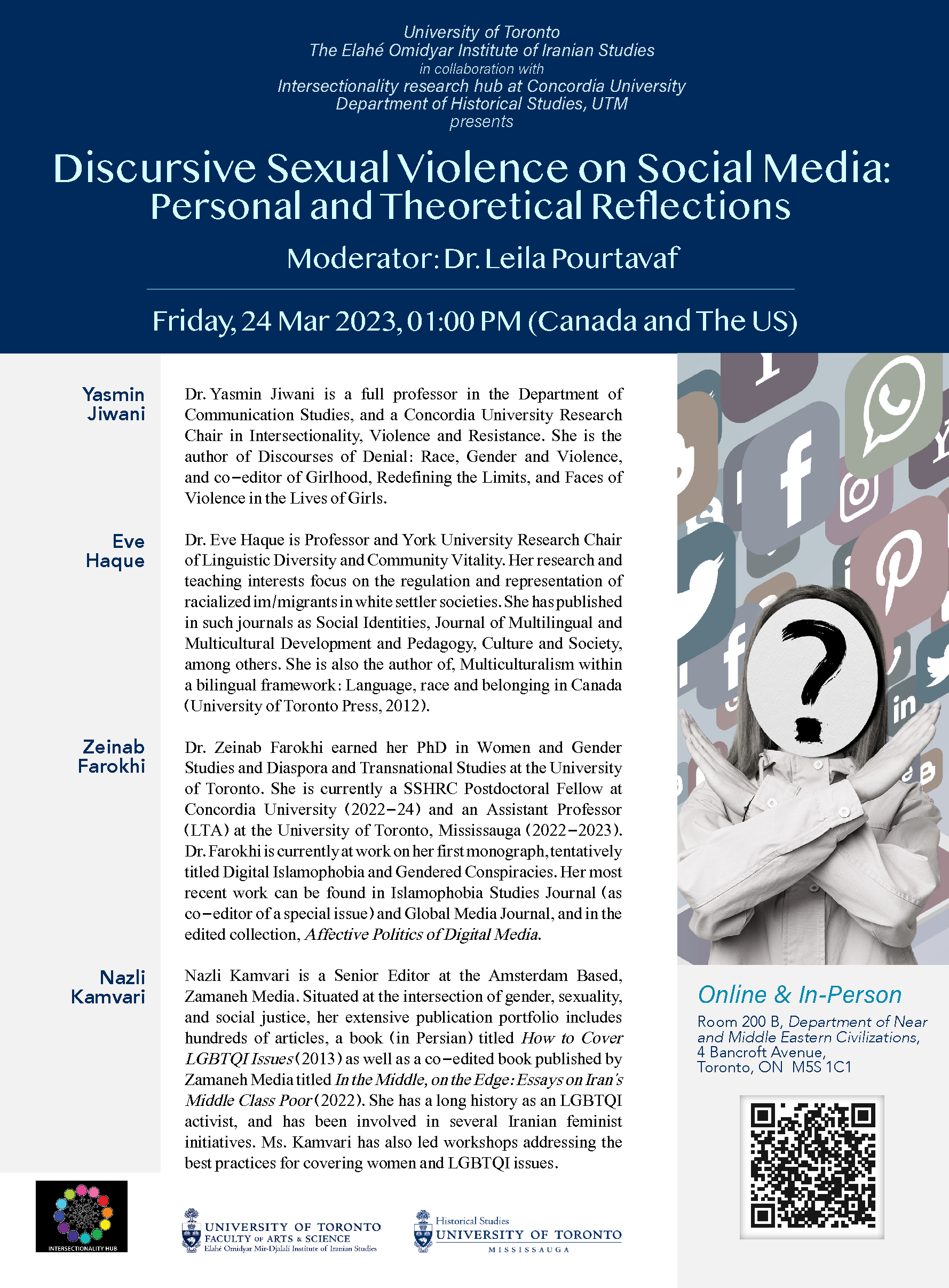 University of Toronto
The Elahé Omidyar Institute of Iranian Studies
in collaboration with
Intersectionality research hub at Concordia University
Department of Historical Studies, UTM
presents
Discursive Sexual Violence on Social Media:
Personal and Theoretical Reflections
Moderator: Dr. Leila Pourtavaf
Friday, 24 Mar 2023, 01:00 PM (Canada and The US)
Zoom Meeting Registration:
https://utoronto.zoom.us/j/82576785918
Dr Yasmin Jiwani
Dr. Yasmin Jiwani is a full professor in the Department of Communication Studies, and a Concordia University Research
Chair in Intersectionality, Violence and Resistance. She is the author of Discourses of Denial: Race, Gender and Violence,
and co-editor of Girlhood, Redefining the Limits, and Faces of Violence in the Lives of Girls.
Dr. Eve Haque
Dr. Eve Haque is Professor and York University Research Chair of Linguistic Diversity and Community Vitality. Her research and
teaching interests focus on the regulation and representation of racialized im/migrants in white settler societies. She has published
in such journals as Social Identities, Journal of Multilingual and Multicultural Development and Pedagogy, Culture and Society,
among others. She is also the author of, Multiculturalism within a bilingual framework: Language, race and belonging in Canada
(University of Toronto Press, 2012).
Dr. Zeinab Farokhi
Dr. Zeinab Farokhi earned her PhD in Women and Gender Studies and Diaspora and Transnational Studies at the University
of Toronto. She is currently a SSHRC Postdoctoral Fellow at Concordia University (2022-24) and an Assistant Professor
(LTA) at the University of Toronto, Mississauga (2022-2023). Dr. Farokhi is currently at work on her first monograph, tentatively
titled Digital Islamophobia and Gendered Conspiracies. Her most recent work can be found in Islamophobia Studies Journal (as
co-editor of a special issue) and Global Media Journal, and in the edited collection, Affective Politics of Digital Media .
Nazli Kamvari
Nazli Kamvari is a Senior Editor at the Amsterdam Based, Zamaneh Media. Situated at the intersection of gender, sexuality,
and social justice, her extensive publication portfolio includes hundreds of articles, a book (in Persian) titled How to Cover
LGBTQI Issues (2013) as well as a co-edited book published by Zamaneh Media titled In the Middle, on the Edge: Essays on Iran's
Middle Class Poor (2022). She has a long history as an LGBTQI activist, and has been involved in several Iranian feminist
initiatives. Ms. Kamvari has also led workshops addressing the best practices for covering women and LGBTQI issues.