Virtual Event
Familial Undercurrents: Untold Stories of Love and Marriage in Modern Iran
October 21, 2022 @ 1:00 pm

-

3:00 pm

EDT

Virtual Event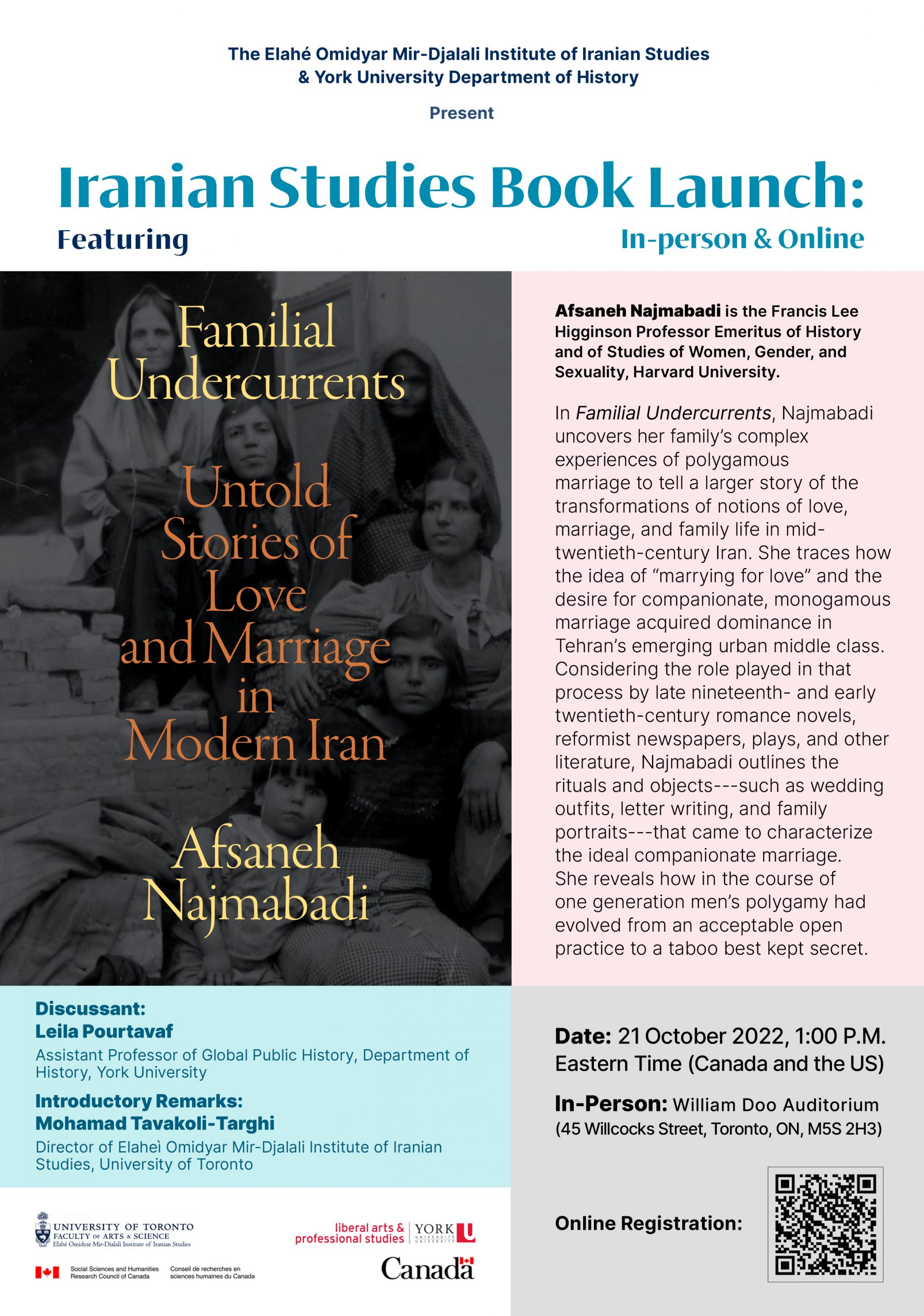 The Elahé Omidyar Mir-Djalali Institute of Iranian Studies
&
York University Department of History
present
Iranian Studies Book Launch
In-person & Online
Featuring
Professor Afsaneh Najmabadi's
Familial Undercurrents:Untold Stories of Love and Marriage in Modern Iran
Speakers
Afsaneh Najmabadi
Francis Lee Higginson Professor of History and of Studies of Women, Gender, and Sexuality, Emerita
Leila Pourtavaf
Assistant Professor of Global Public History, York University
Mohamad Tavakoli-Targhi
Director, Elaheì Omidyar Mir-Djalali Institute of Iranian Studies
Friday, 21 October 2022, 01:00 PM Eastern Time (Canada and the US)
In-person Meeting:
William Doo Auditorium45 Willcocks Street, Toronto, ON, M5S 2H3
https://utoronto.zoom.us/meeting/register/tZ0vfuurpjkpHtKP5slp_jYfvF09MU8Yl8AQ
After registering, you will receive a confirmation email containing information about joining the meeting.
In Familial Undercurrents, Najmabadi uncovers her family's complex experiences of polygamous marriage to tell a larger story of the transformations of notions of love, marriage, and family life in mid-twentieth-century Iran. She traces how the idea of "marrying for love" and the desire for companionate, monogamous marriage acquired dominance in Tehran's emerging urban middle class. Considering the role played in that process by late nineteenth- and early twentieth-century romance novels, reformist newspapers, plays, and other literature, Najmabadi outlines the rituals and objects—such as wedding outfits, letter writing, and family portraits—that came to characterize the ideal companionate marriage. She reveals how in the course of one generation, men's polygamy had evolved from an acceptable open practice to a taboo best-kept secret. At the same time, she chronicles the urban transformations of Tehran and how its architecture and neighborhood social networks both influenced and became emblematic of the myriad forms of modern Iranian family life.