Grammaticalization of "Dāshtan"
February 11 @ 1:00 pm

-

5:00 pm

EST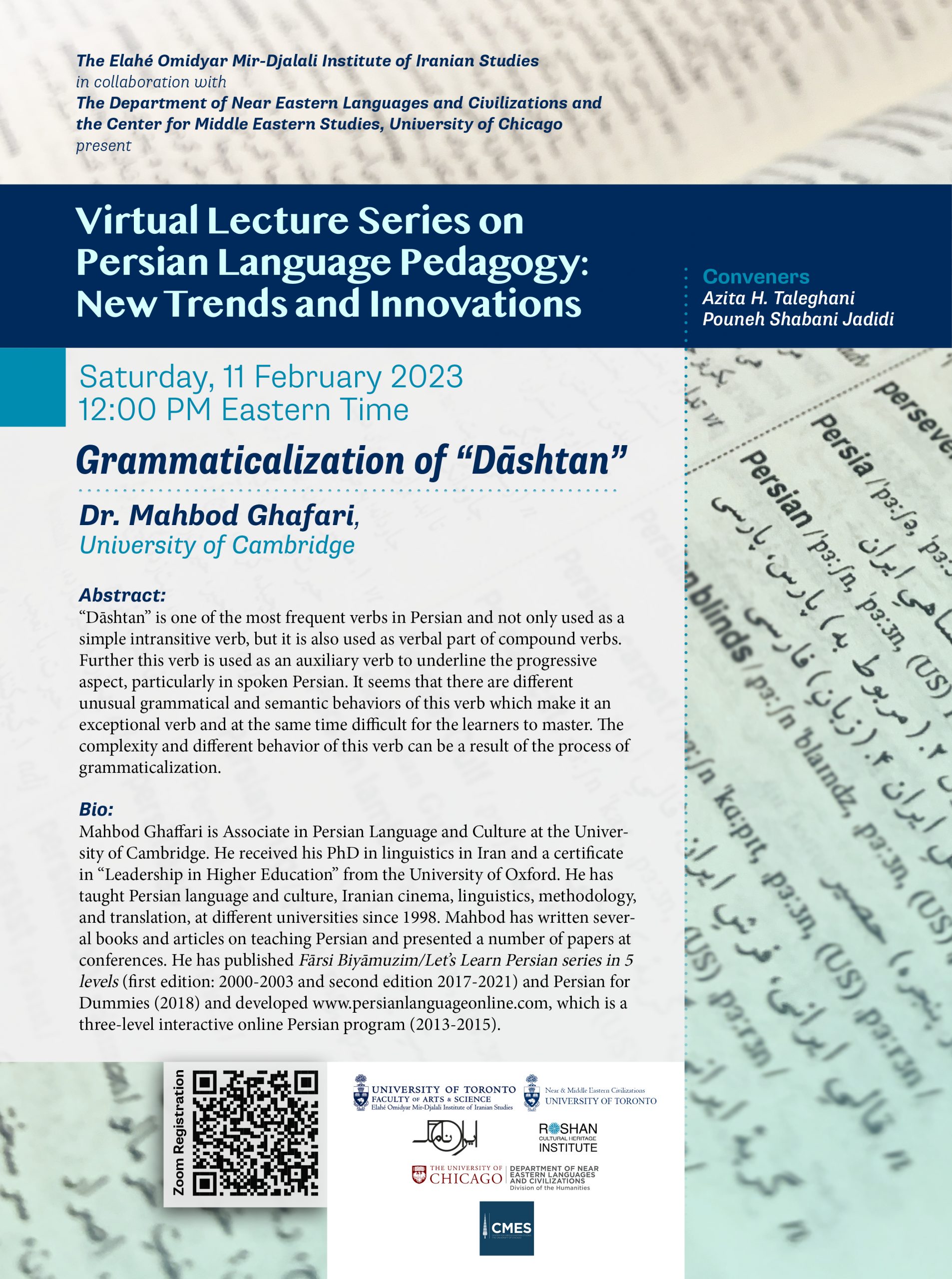 The Elahé Omidyar Mir-Djalali Institute of Iranian Studiesin collaboration with  The Department of Near Eastern Languages and Civilization and the Center for Middle Eastern Studies, University of Chicago and the Department of Near Eastern Civilizations, University of Toronto
present
Virtual Lecture Series on Persian Language Pedagogy: New Trends and Innovations
Grammaticalization of "Dāshtan"
Dr. Mahbod GhafariUniversity of Cambridge
When: Feb 11, 2023 12:00 PM Eastern Time (US and Canada)
Register in advance for this meeting:https://utoronto.zoom.us/meeting/register/tZAtfu2qqjkvHdYeuES1McyTARE2CNzBc68EAfter registering, you will receive a confirmation email containing information about joining the meeting.
Abstract:
"Dāshtan" is one of the most frequent verbs in Persian and not only used as a simple intransitive verb, but it is also used as verbal part of compound verbs. Further this verb is used as an auxiliary verb to underline the progressive aspect, particularly in spoken Persian. It seems that there are different unusual grammatical and semantic behaviors of this verb which make it an exceptional verb and at the same time difficult for the learners to master. The complexity and different behavior of this verb can be a result of the process of grammaticalization. 
Bio:Fārsi Biyāmuzim/Let's Learn Persian series in 5 levels (first edition: 2000-2003 and second edition 2017-2021) and Persian for Dummies (2018) and developed www.persianlanguageonline.com, which is a three-level interactive online Persian program (2013-2015).
Mahbod Ghaffari is Associate in Persian Language and Culture at the University of Cambridge. He received his PhD in linguistics in Iran and a certificate in "Leadership in Higher Education" from the University of Oxford. He has taught Persian language and culture, Iranian cinema, linguistics, methodology, and translation, at different universities since 1998. Mahbod has written several books and articles on teaching Persian and presented a number of papers at conferences. He has published