Innovative Technology in the Language Classroom
November 11 @ 12:00 pm

-

2:00 pm

EST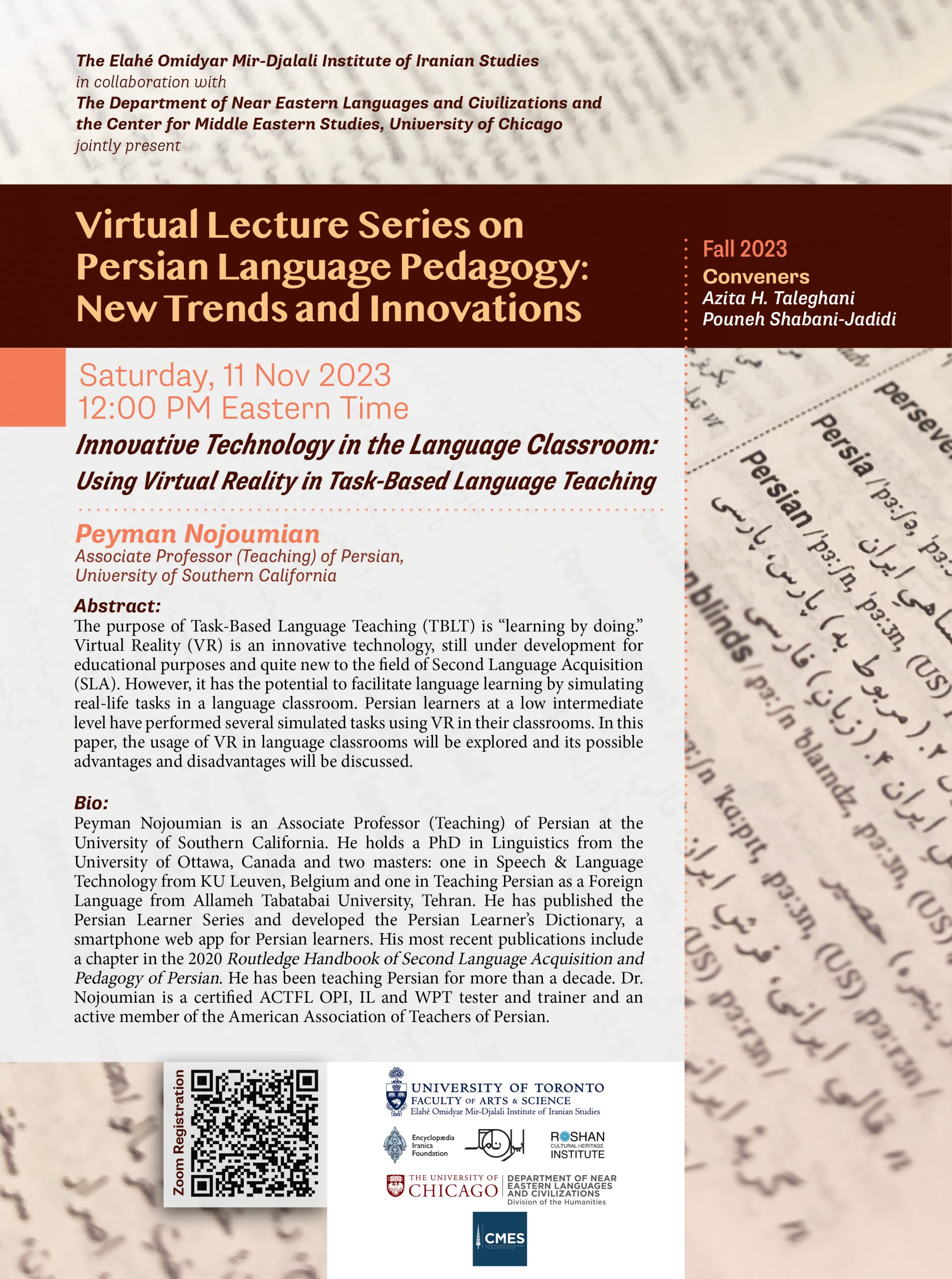 The Elahé Omidyar Mir-Djalali Institute of Iranian Studiesin collaboration with the Department of Near Eastern Languages and Civilizations and the Center for Middle Eastern Studies, University of Chicago  jointly presentInnovative Technology in the Language Classroom: Using Virtual Reality in Task-Based Language Teaching 
Peyman Nojoumian, Associate Professor (Teaching), University of Southern CaliforniaSaturday, 11 November 2023, 12:00 p.m. Eastern Time (Canada and US)    Zoom Meeting Registration:https://utoronto.zoom.us/meeting/register/tZMkf-yoqDwrEtRnTBB_LZR6s8lKntJmiaHV
After registering, you will receive a confirmation email containing information about joining the meeting.
Abstract:
The purpose of Task-Based Language Teaching (TBLT) is "learning by doing." Virtual Reality (VR) is an innovative technology, still under development for educational purposes and quite new to the field of Second Language Acquisition (SLA). However, it has the potential to facilitate language learning by simulating real-life tasks in a language classroom. Persian learners at a low intermediate level have performed several simulated tasks using VR in their classrooms. In this paper, the usage of VR in language classrooms will be explored and its possible advantages and disadvantages will be discussed.
Bio:
Peyman Nojoumian is an Associate Professor (Teaching) of Persian at the University of Southern California. He holds a PhD in Linguistics from the University of Ottawa, Canada and two masters: one in Speech & Language Technology from KU Leuven, Belgium and one in Teaching Persian as a Foreign Language from Allameh Tabatabai University, Tehran. He has published the Persian Learner Series and developed the Persian Learner's Dictionary, a smartphone web app for Persian learners. His most recent publications include a chapter in the 2020 Routledge Handbook of Second Language Acquisition and Pedagogy of Persian. He has been teaching Persian for more than a decade. Dr. Nojoumian is a certified ACTFL OPI, IL and WPT tester and trainer and an active member of the American Association of Teachers of Persian.