Slavery in Eastern Iranian Regions
October 16 @ 12:00 pm

-

1:00 pm

EDT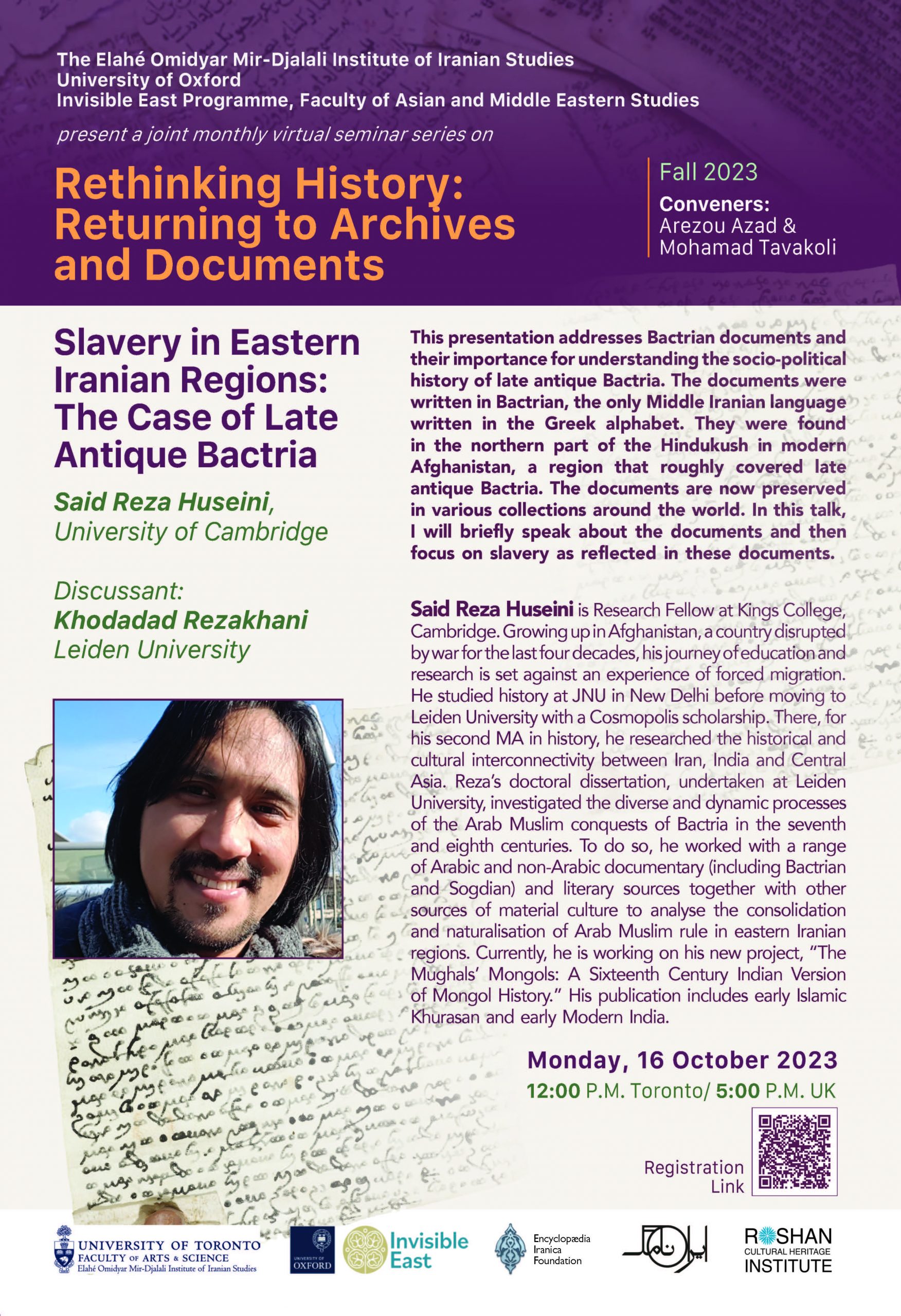 The Elahé Omidyar Mir-Djalali Institute of Iranian Studies, University of Toronto, and the
Invisible East Programme, the Faculty of Asian and Middle Eastern Studies, University of Oxford
jointly present
Slavery in Eastern Iranian Regions: The Case of Late Antique Bactria

Said Reza Huseini, University of Cambridge
Discussant: Khodadad Rezakhani, Leiden University
Monday, 16 October 2023, 12:00 p.m. Toronto/5:00 p.m. UK 


Zoom Meeting
Zoom Meeting Registration:

https://utoronto.zoom.us/meeting/register/tZIocuuhpz8iEtZ-L4819TcSD47Uh7mRt8tK
After registering, you will receive a confirmation email containing information about joining the meeting.
Abstract:
This presentation addresses Bactrian documents and their importance for understanding the socio-political history of late antique Bactria. The documents were written in Bactrian, the only Middle Iranian language written in the Greek alphabet. They were found in the northern part of the Hindukush in modern Afghanistan, a region that roughly covered late antique Bactria. The documents are now preserved in various collections around the world. In this talk, I will briefly speak about the documents and then focus on slavery as reflected in these documents.
Bios:


Said Reza Huseini is Research Fellow at King's College, Cambridge. Growing up in Afghanistan, a country disrupted by war for the last four decades, his journey of education and research is set against an experience of forced migration. He studied history at JNU in New Delhi before moving to Leiden University with a Cosmopolis scholarship. There, for his second MA in history, he researched the historical and cultural interconnectivity between Iran, India and Central Asia. Reza's doctoral dissertation, undertaken at Leiden University, investigated the diverse and dynamic processes of the Arab Muslim conquests of Bactria in the seventh and eighth centuries. To do so, he worked with a range of Arabic and non-Arabic documentary (including Bactrian and Sogdian) and literary sources together with other sources of material culture to analyse the consolidation and naturalisation of Arab Muslim rule in eastern Iranian regions. Currently, he is working on his new project, "The Mughals' Mongols: A Sixteenth Century Indian Version of Mongol History." His publication includes early Islamic Khurasan and early Modern India.
Khodadad Rezakhani is a historian of late antique and early medieval Central and West Asia. Author of ReOrienting the Sasanians: East Iran in Late Antiquity (Edinburgh 2017), he specialises in the economic and political history of the Sasanian Empire within larger global history. His work has considered histories of ancient and medieval Central Asia, Byzantium, the Caliphate, and early European history.