The Archival Remnants of Art
September 28 @ 12:00 pm

-

2:00 pm

EDT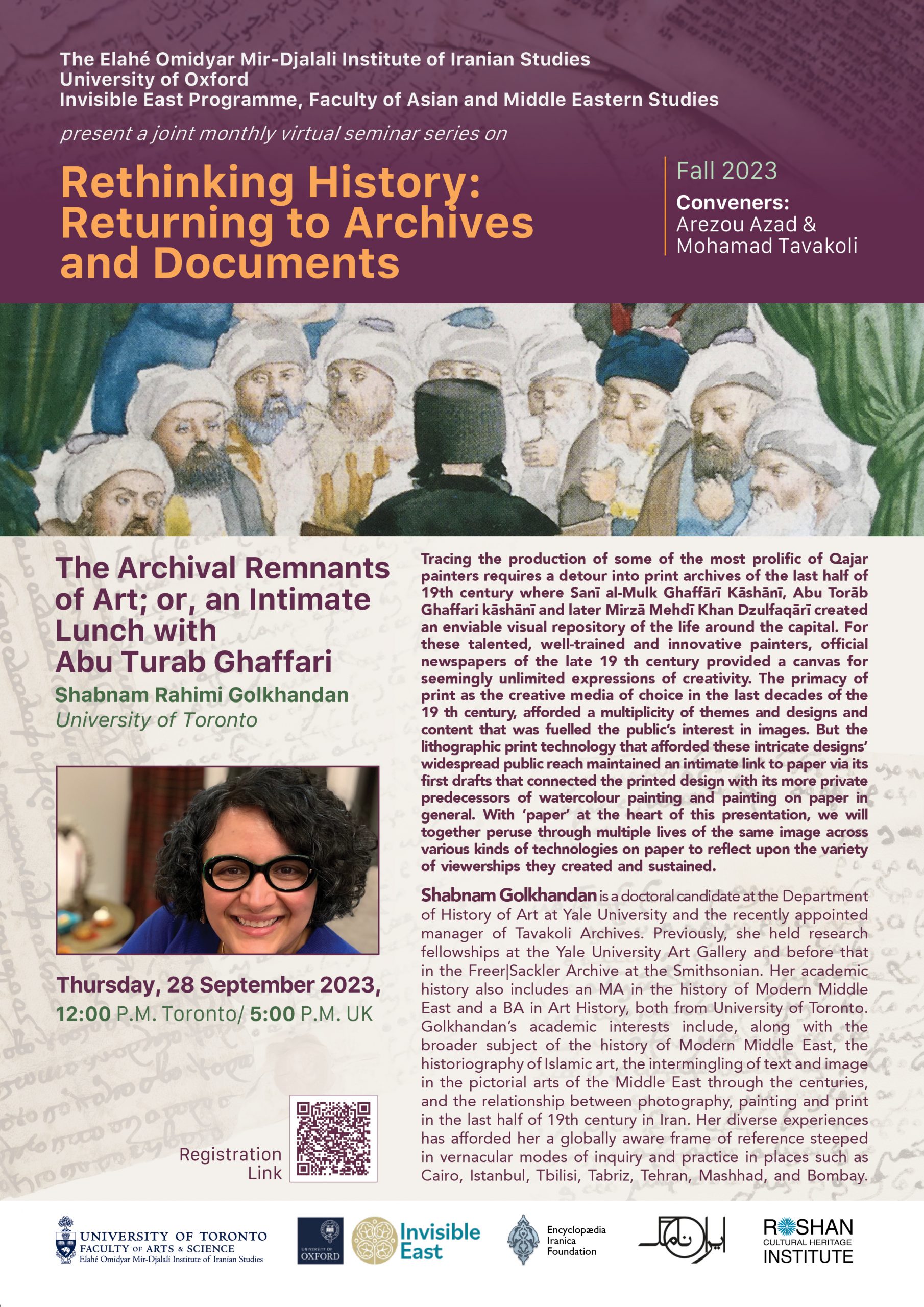 The Elahé Omidyar Mir-Djalali Institute of Iranian Studies, University of Toronto, and the Invisible East Programme, the Faculty of Asian and Middle Eastern Studies, University of Oxford jointly present
The Archival Remnants of Art; or, an Intimate Lunch with Abu Turab GhaffariShabnam Golkhandan, University of Toronto  Thursday, 28 September 2023, 12:00 p.m. Toronto/5:00 p.m. UK Zoom Meeting Registration:https://utoronto.zoom.us/meeting/register/tZIocuuhpz8iEtZ-L4819TcSD47Uh7mRt8tK
After registering, you will receive a confirmation email containing information about joining the meeting.
Abstract:
Tracing the production of some of the most prolific of Qajar painters requires a detour into print archives of the last half of 19th century where Sanī al-Mulk Ghaffārī Kāshānī, Abu Torāb Ghaffari kāshānī and later Mirzā Mehdī Khan Dzulfaqārī created an enviable visual repository of the life around the capital. For these talented, well-trained and innovative painters, official newspapers of the late 19th century provided a canvas for seemingly unlimited expressions of creativity. The primacy of print as the creative media of choice in the last decades of the 19th century, afforded a multiplicity of themes and designs and content that was fuelled the public's interest in images. But the lithographic print technology that afforded these intricate designs' widespread public reach maintained an intimate link to paper via its first drafts that connected the printed design with its more private predecessors of watercolour painting and painting on paper in general. With 'paper' at the heart of this presentation, we will together peruse through multiple lives of the same image across various kinds of technologies on paper to reflect upon the variety of viewerships they created and sustained.
Bio:Shabnam Golkhandan is a doctoral candidate at the Department of History of Art at Yale University and the recently appointed manager of Tavakoli Archives. Previously, she held research fellowships at the Yale University Art Gallery and before that in the Freer|Sackler Archive at the Smithsonian. Her academic history also includes an MA in the history of Modern Middle East and a BA in Art History, both from University of Toronto. Golkhandan's academic interests include, along with the broader subject of the history of Modern Middle East, the historiography of Islamic art, the intermingling of text and image in the pictorial arts of the Middle East through the centuries, and the relationship between photography, painting and print in the last half of 19th century in Iran. Her diverse experiences has afforded her a globally aware frame of reference steeped in vernacular modes of inquiry and practice in places such as Cairo, Istanbul, Tbilisi, Tabriz, Tehran, Mashhad, and Bombay.