Virtual Event
Women and Electoral Campaigns in Iran
June 2, 2021 @ 4:00 pm

-

8:00 pm

EDT

Virtual Event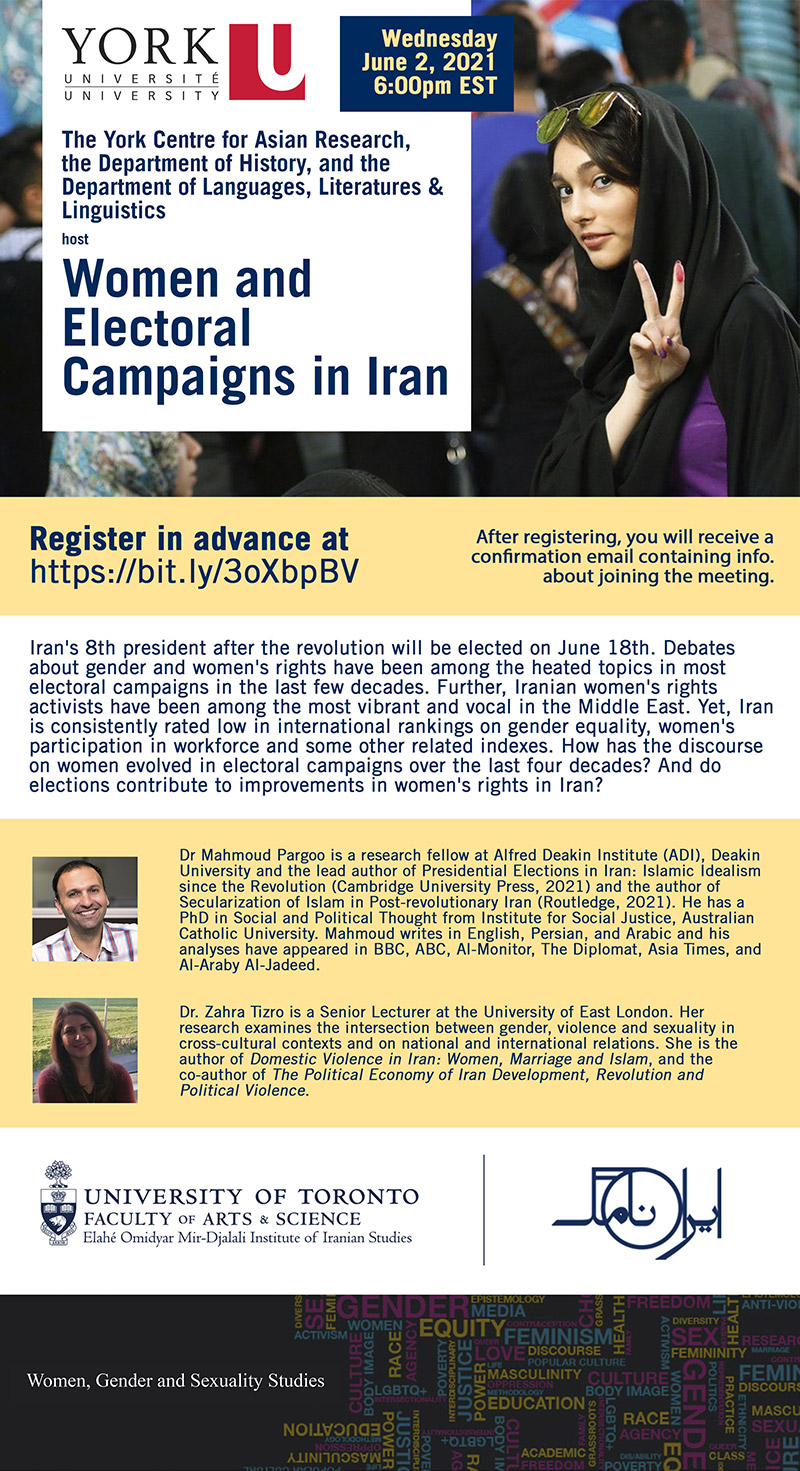 Bio:
Dr Mahmoud Pargoo is a research fellow at Alfred Deakin Institute, Deakin University, and the lead author of Presidential Elections in Iran: Islamic idealism since the revolution (Cambridge University Press, 2021) and the author of Secularization of Islam in Post-revolutionary Iran (Routledge, 2021). He has a PhD in Social and Political Thought from Insitute for Social Justice, Australia Catholic University. Mahmoud writes in English, Persian, and Arabic, and his analyses have appeared in BBC, ABC, Al-Monitor, The Diplomat, Asia Times, and Al-Araby Al-Jadeed.
Dr Zahra Tizro is a Senior Lecturer at the University of East London. Her research examines the intersection between gender, violence, and sexuality in cross-cultural contexts and on national and international relations. She is the author of Domestic Violence in Iran: Women, Marriage and Islam, and the co-author of The Polticial Economy of Iran Development, Revolution, and Political Violence.
Abstract:
Iran's 8th president after the revolution will be elected on June 18th. Debates about gender and women's rights have been among the heated topics in most electoral campaigns in the last few decades. Further, Iranian women's rights activists have been among the most vibrant and vocal in the Middle East. Yet, Iran is consistently rated low in international rankings on gender equality, women's participation in the workforce and some other related indexes. How has the discourse on women evolved in electoral campaigns over the last four decades? And do elections contribute to the improvements in women's rights in Iran?